Six Gotta-Catch Vieux Carré Parades
January 26 2019 |
News
While the majority of Mardi Gras parades are too large to squeeze through the narrow, cobblestoned streets of the Vieux Carré, a handful of creative krewes still sashay through the old city, to the delight of locals and visitors alike. The Krewe of Joan of Arc and Société Des Champs Elysée have already rolled into the history books this year, but six parades remain. Check them out below and then book your room in the heart of the action at one of the unique boutique properties that make up French Quarter Collection of Hotels. No two Mardi Gras parades are alike and either are our hotels. Book now while space is still available.
Krewe du Vieux, Jan. 16
Krewe du Vieux is a parade loved for its wild satire and political comedy. It's made up of several subkrewes with names like Krewe of C.R.U.D.E., Krewe of L.E.W.D. and Mystic Krewe of Spermes. If you want to see some of the best brass and jazz bands in New Orleans, don't miss it. Tip: This is not a G-rated parade.
Krewedelusion, Jan. 16
Rolling on the heels of Krewe du Vieux is another satirical parade, krewedelusion. Their motto: "The People Shall Rule – Until a Suitable Replacement Can Be Found." In We'd tell you the theme of this year's parade but it's a secret until parade day.
Krewe of Bohème, Feb. 15
New on the parade route in 2019 is Krewe Bohème, a marching parade through the Marigny and the French Quarter. You can expect "a visual and auditory feast of mystery, artistry and fun," led by a green absinthe fairy, a symbol of the bohemian spirit.
Krewe of Cork, Feb. 22
Pop on over to Krewe of Cork, a walking parade that celebrates wine, food and fun. Marchers, dressed like wine, sip their way through the Quarter with custom-made goblets while brass bands blare.
Barkus, Feb. 24
New Orleans isn't just dog-friendly – we treat our four-legged friends like royalty! At Barkus, show dogs and mutts alike wiggle and waggle through the Vieux Carré in clever costumes. All proceeds from the event are donated to animal welfare groups.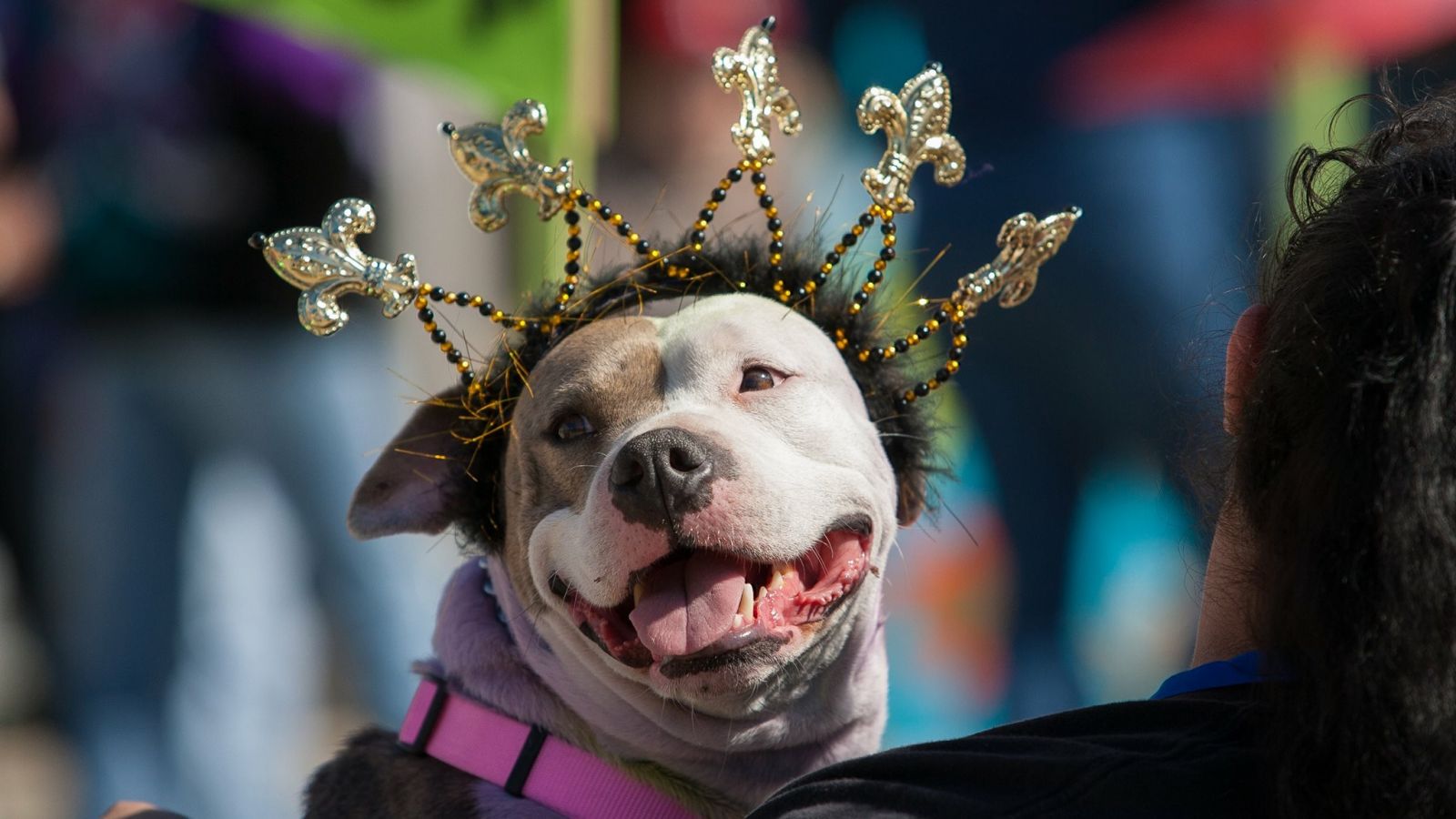 Krewe of Bosom Buddies & Breast Friends, March 1
The members of Bosom Buddies & Breast Friends sashay through the Quarter in colorful tutus, bras, and hats, along with the men who "support them" – the "Breast Friends." So what do they throw? You got it. Hand-decorated brassieres.
Stay Close to the Fun
Unless your traveling with children, the French Quarter is the place to be for Mardi Gras. People costume more when they go to the French Quarter and the wrought-iron balconies are filled with generous revelers baring beads. The big parades on Mardi Gras Day roll down Canal Street, just a short walk from the French Quarter Collecton of Hotels. Our hotels fill up every year so book your place in the fun now.
---